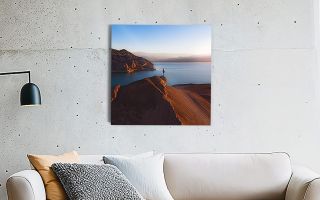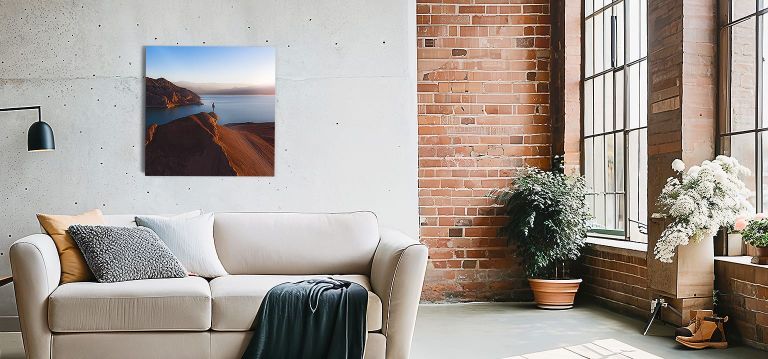 Premium metal prints.
Designed for photography and extraordinary clarity, our premium metal prints truly make your captured moments shine for years to come.
How it works
Upload and customize
Just upload your image to get started. Choose whether you want your image to be portrait or landscape, and create a unique and durable work of art.
Review your print
Once our designers have finished creating your print preview, we'll email you a free digital print proof to approve. We're here to work with you to make sure that your order is perfect before we send it to print!
Shipped to you with care
We'll take care of the rest. Your durable custom metal print will be delivered to you in just a few days.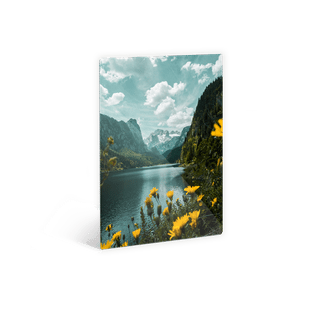 Best metal prints in the industry.
Printed on metal with a high-gloss sheen finish and 1/8" rounded edges, our premium aluminum prints come in a variety of sizes and are designed to fit any space or style. Backed with a durable metal bracket or 3/4" insert frame for larger sizes, hanging your metal prints will make a bold statement wherever they're displayed.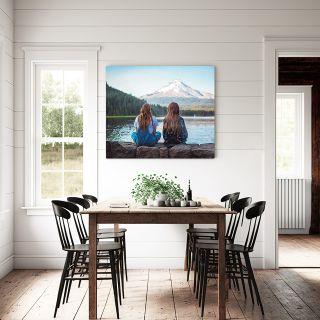 A unique and vibrant way to display your photos.
Designed for vivid photography, our metal prints with high gloss surface bring out the detail and colors in your photos making the perfect print option for travel shots, landscape photography, abstracts and animal prints. Our aluminum prints instantly become the focal point of any room. Adding an industrial feel to any space, metal photo prints are the perfect choice for a modern, contemporary look.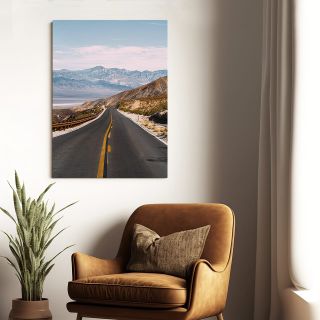 Modern durability with unsurpassed detail.
There are several reasons why printing on metal can be a great option for creating unique and durable artwork. Our custom metal prints are highly durable and long-lasting, making them ideal for high-traffic areas. Metal prints are easy to clean and maintain, requiring only a damp cloth to wipe down. They are resistant to scratches, fading, moisture, and UV light and can handle wear and tear better than other traditional prints.
Specifications
| | |
| --- | --- |
| Metal | Fade resistant, UV protected aluminum chromaluxe metal with a high-gloss sheen finish. |
| Mount | Backed with a metal float mount hanger bracket or a 3/4" inset frame for larger sizes. |
| Edges | Printed with a 1/8" rounded corner edge. |
| Sizes | Choose from a selection of our most popular standard sizes. |
Get in touch with us
Not sure what to print? Need some help choosing the perfect photo? We're here to help!
Our best-selling sizes
Our most popular metal prints are classics for a reason.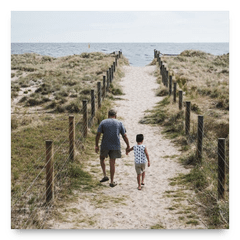 Square
Square
Portrait
Portrait
Landscape
Landscape
16" x 16"
20" x 20"
24" x 24"
Custom Size metal print
We also offer many custom and large format sizes.
Create your print
Frequently asked questions
Every order goes through our internal quality control process before it's printed. One of our in-house designers will create a digital print preview for you to review. Once we have your approval, your order will be sent directly to print.

If we have not heard back from you after 48 hours, our in-house design team will approve your professionally-reviewed proof. We take these steps to ensure your order is sent to print in a timely fashion.

Our designers review every image to make sure they look perfect. If you selected a design service or we notice an issue with your image, we'll wait for your approval before sending anything to print
Metal wall art prints are decorative artworks printed directly on metal sheets that are designed to be hung on walls. Using state of the art print technology your photos are infused onto coated aluminum for a compelling, vibrant, and durable presentation.
When hanging metal wall art prints, it's important to consider the weight of the print and the type of wall it will be hung on. There is a hidden fixture on the reverse side of each print that floats the metal print off the wall. Larger prints come equipped with a special 3/4" inset frame and mounting hardware to ensure they are securely attached to the wall. Where smaller traditional sized prints come with 1/2" inset bracket making it easy to hang on a hook or nail. Styles and selection vary based on the size of the print you order.